In March, Vertex Pharmaceuticals recognizes Women's History Month and International Women's Day in celebration and solidarity of women around the world. Women make up approximately half of Vertex's global workforce and notably, there is a strong female presence across its top leadership — CEO and President, Chief Medical Officer, Chief Regulatory and Quality Officer, General Counsel, Chief Communications Officer, Chief Human Resources Officer and Chief Accounting Officer.
This month is also the opportunity to recognize and celebrate the accomplishments of two extraordinary women who have been recognized by the Healthcare Businesswomen's Association (HBA) as leaders, role models and mentors in their field: Leela Paris, Ph.D., Vice President, Process Engineering and Manufacturing, and Stephanie Franklin, Senior Vice President and Chief Human Resources Officer.
HBA Rising Star: Leela Paris
Vice President, Process Engineering and Manufacturing
The Rising Star award recognizes women in the early to mid-stage of their professional career who contribute significantly to Vertex, exemplify leadership, and are role models for others. Rising Stars are a true example of top talent in the health care industry.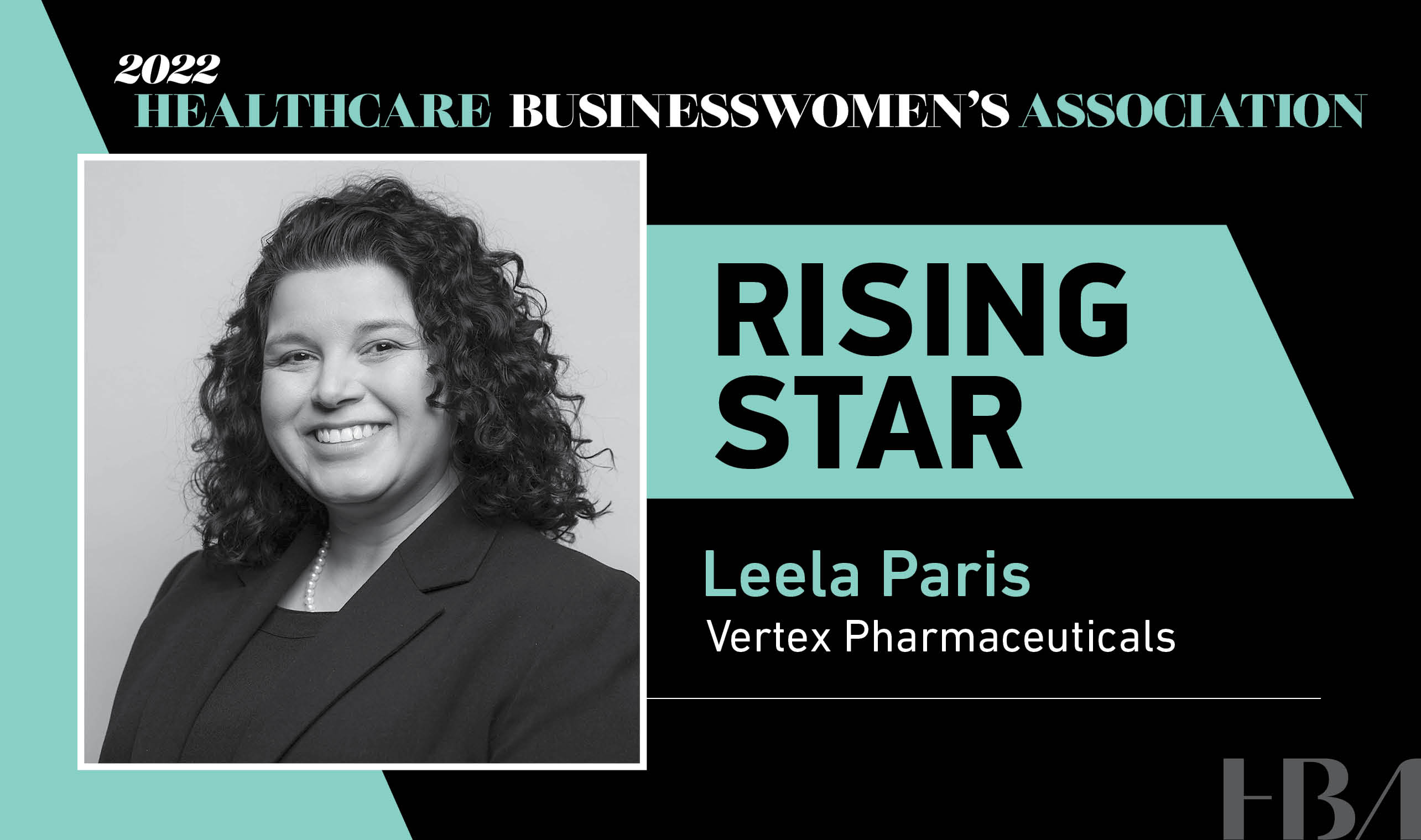 Leela is a leader within Vertex Cell and Genetic Therapies, where she oversees production and development of its type 1 diabetes and sickle cell disease/beta thalassemia therapies. This includes oversight of the facility, production space, equipment validations, digital systems, supply chain and manufacturing processes — all of which require exceptional cross-functional collaboration and a relentless pursuit of excellence.
Early on, Leela knew she wanted to pursue a career that could help patients, which led her to pursue degrees in medicinal chemistry and molecular pharmacology. What drew her to Vertex? A chance meeting at a conference and a conversation about the science and the work and leadership focused on data, science and biology. Her strong work ethic and track record of success has enabled her to grow and progress in her career, including making the transition from a technical track to a managerial track.
She continues to lead by example, develop her skills (through mentorship and manager training support from Vertex), and give back to other women through IWILL (Inspiring Women in Leadership and Learning), Vertex's employee resource network dedicated to attracting, retaining, developing and enhancing the career satisfaction of women and contributing to their professional advancement.
HBA Luminary: Stephanie Franklin
Senior Vice President and Chief Human Resources Officer
The Luminary award recognizes women with more than 20 years of industry experience who actively mentor and sponsor others, help advance other women's careers, and exhibit dedication to the health care industry. Luminaries are role models in their company and are a shining example of transformational leadership that deserves to be recognized.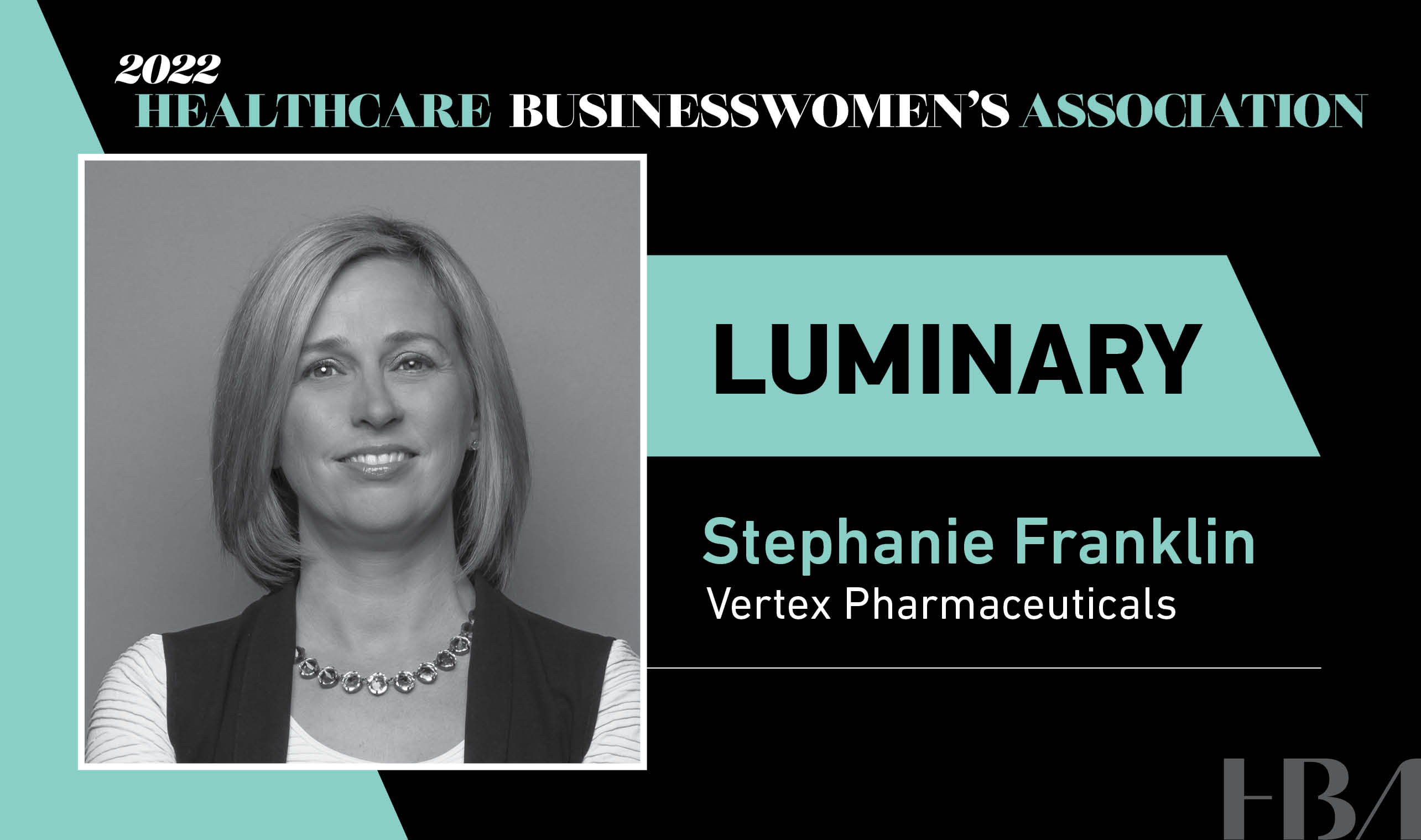 As Vertex's Chief Human Resources Officer, Stephanie is a true leader — fearless, unshakable and always driven to do what's best for her colleagues and Vertex employees. She takes a pragmatic, human-centric approach to how she and the HR team support the broader Vertex community, no matter how large or small the challenge.
No situation better exemplifies this than her leadership in the company's COVID-19 response. From the very start of the pandemic, Stephanie has been a calm, steady voice in the midst of an uncertain and evolving environment. As the leader of Vertex's COVID-19 Management Team, she has been the consistent communicator and conduit for employees — taking on the hard questions and always applying a data-driven and principled mindset to the policies and practices that are implemented.
Beyond COVID, Stephanie has provided transformational leadership in a number of other areas of the business. She is motivated by change and looks to find opportunity in every situation, like Vertex's flexible work policy and its inclusion, diversity and equity (ID&E) strategy and initiatives.
---
Congratulations to Stephanie and Leela for this well-deserved recognition. They are two, among many, extraordinary women at Vertex who are applying their leadership and skills to solving some of the hardest-to-solve challenges in science.