British Science Week is a 10-day celebration of STEM featuring entertaining and engaging events and activities across the U.K. for people of all ages. It provides a platform to stimulate and support teachers, STEM professionals, science communicators and the general public to produce and participate in STEM events and activities. 
The theme for this year's British Science Week is 'Connections' and the importance of this in scientific research. Nearly all innovations are reliant on teams of people to work together on a shared goal. In fact, David Altshuler, the head of Vertex Pharmaceuticals' R&D function often describes drug discovery as the 'ultimate team sport'.  
At Vertex, our goal is to pursue the promise and potential of science and its ability to have a transformative impact for people living with serious diseases. It's how we create value for patients, families and society as a whole. It's why we dedicate the vast majority of resources toward innovation, from building teams of top talent to creating a robust toolkit of technologies — all of our efforts are aimed at treating serious diseases where we understand the underlying cause of the disease in humans. 
Our commitment to understanding the fundamental causal biology leads to a depth of rigor that can only be achieved by bringing all colleagues' thinking — at any site — to the problem. As we pour on the chemistry, this again requires us to bring imagination and creativity from all research sites to a problem. 
With this in mind, I thought it would be a great opportunity to hear from some of the scientists that work here at Vertex's Oxford Research site on the power connections have had on their working life. 
Research is a team sport
Cheska, a cell biologist, says that finding answers to some of the toughest questions means there is an inherent need for knowledge that spans a variety of disciplines and subdisciplines.  
"As a cell biologist, I need to collaborate with protein scientists, chemists and data analysts, as well as engineers specialising in automation, IT and software to get my everyday work done. When cracking the biology on a project, we might need to collaborate with more disease specialists too, such as clinicians and geneticists, to really understand the disease as a whole, on the patient and population level, as well as the mechanistic biology." 
David, a medicinal chemist, notes that while individuals on teams have their unique expertise, it is only by collaborating that we can overcome the many challenges in discovering new medicines.  
"Drug discovery is the ultimate team sport!"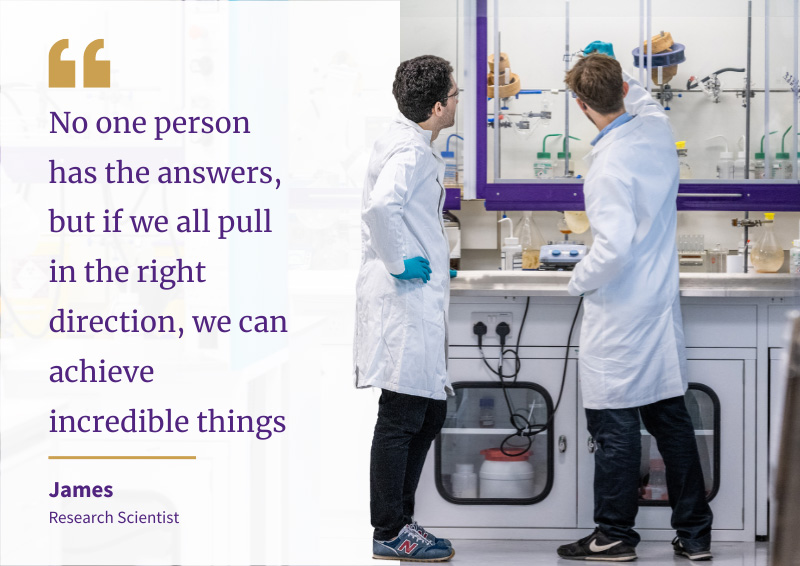 James, a scientist in our pharmacology team, notes that what Vertex is trying to achieve in our research is path-breaking. There is no roadmap for where we are going, and we need the best scientists, informaticians, the strongest collaborations, and the help of patient communities to get there.  
"No one person has the answers, but if we all pull in the right direction, we can achieve incredible things." 
Dominique, a molecular and cell biologist, notes that collaboration with external partners is part and parcel of our research strategy.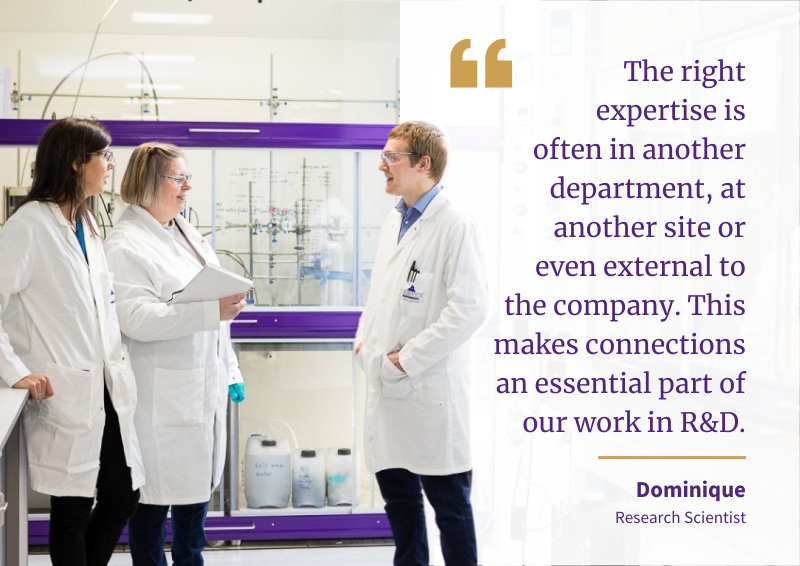 "The right expertise is often external, in another department, at another site or even external to the company. This makes connections and collaborations essential parts of our work in R&D. Drug discovery is all about teamwork." 
The importance of nurturing new talent
I've worked in the biotech industry for well over 25 years and something I care passionately about is ensuring the next generation of scientists are inspired to have a long and fulfilling career. At Vertex we do this in a number of ways by collaborating with local schools, educators and organizations so that the next generation loves science and wants to pursue a career in STEM. We have a particular focus in creating opportunities for young women and students of color who have been traditionally underrepresented in biotech. 
I am incredibly proud that we invite students from local schools into our Oxford Learning Lab to meet Vertex employees and conduct hands-on, real-world experiments. Ensuring that people from all backgrounds know that they have a place in our industry is vital and fundamental in discovering therapies for people that can transform their lives. The team at Oxford are intentional in their approach when new people join the team — to ensure they can bring their best self to work every day. Scientific breakthroughs rely on this.  
"I try to introduce my team to other colleagues in ways that are comfortable to them. This can be as simple as pointing them in the direction of the right person, or it can be in form of small meetings and forums where they can benefit from insight on specific topics." - Cheska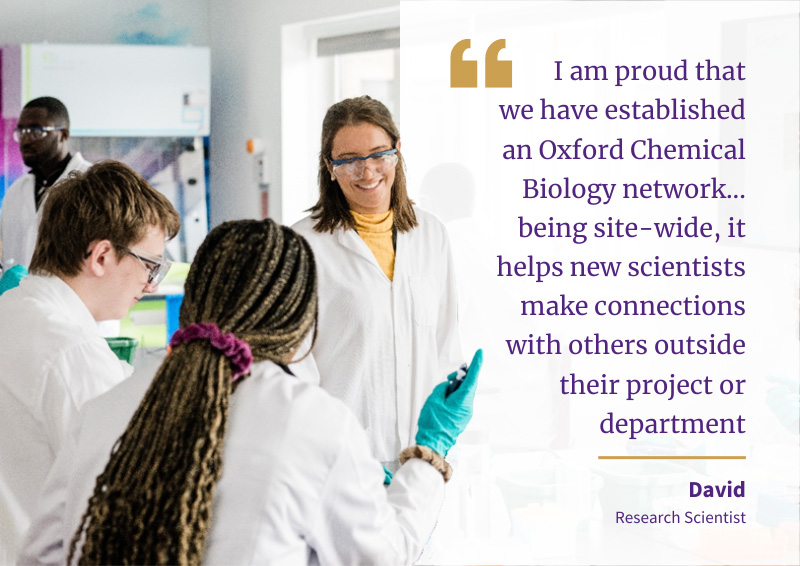 "I am proud that at Vertex we have established an Oxford Chemical Biology network to support those on the Oxford site with an interest in chemical biology. An important part of this has been hearing from new scientists, who bring unique experiences to Vertex. As it is a site-wide network, it also helps new scientists make connections with others outside their project or department."  - David   
"Often the best ways to nurture new connections are the simplest. A five- or ten-minute face to face meeting with someone can go a long way in building relationships." - James  
"New scientists are given the opportunity to show and discuss their work regularly at the team or senior leadership levels. These discussions not only help progress our research, but also guide new scientists towards resources or a person able to help them."  - Dominique  
Three research sites, one unifying focus
No matter the disease, our work is defined by a common strategy across Oxford, San Diego and Boston, that drives a culture of innovation and scientific discovery. And that requires focus, collaboration and teamwork. As James mentioned, we're all pulling in the same direction to achieve our goals.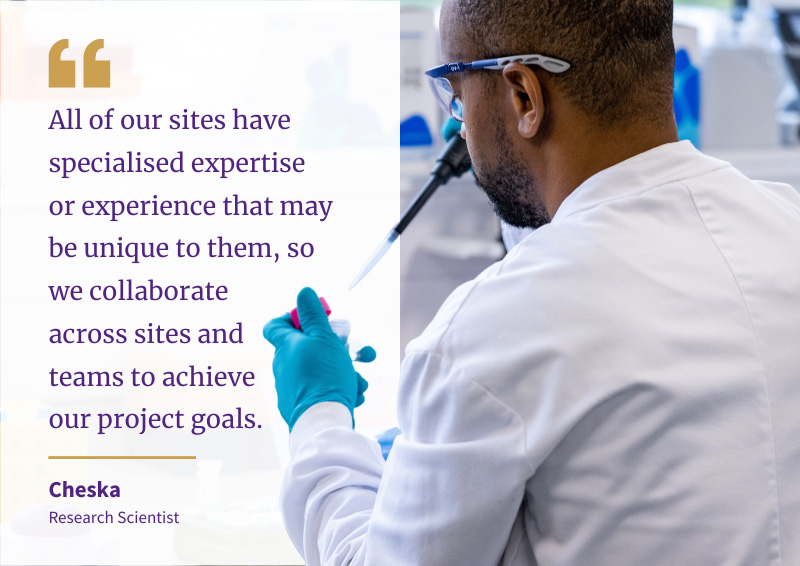 "Some sites have very specialised expertise or experience unique to that site, so we collaborate with them to achieve our project goals. The Boston site has an excellent image analysis and machine learning team, for example, and San Diego has an instrumentation group where they can modify or build their own instruments or accessories."  - Cheska  
"I have built connections with the Boston Exploratory Research and Chemical Biology group, so that the team at Oxford is aware of their work. We have benefited from several knowledge exchange sessions from that team."  - David   
"We work extremely closely with our colleagues in Boston, particularly in Clinical Biomarkers. They have a wealth of experience in various programs that we always tap into when trying to figure out the best way to approach a problem. As they are oriented towards generating clinically meaningful data, it's always good to speak with them and make sure that our work is providing data that gets us closer to patients. If it's not getting us closer to the people that matter, then we shouldn't be doing it!"  - James  
"I've worked at Vertex for 5 years, with 18 months of that working closely with the team in San Diego on our pain program. Currently, I'm working on a companywide effort to upgrade our research ecosystem in a way that it will be able to support the scale-up of our organization's capabilities. This effort involves 130+ scientists representing 10 functions across the four Vertex sites, Boston, Vertex Cell and Gene Therapies, San Diego and Oxford." - Dominique