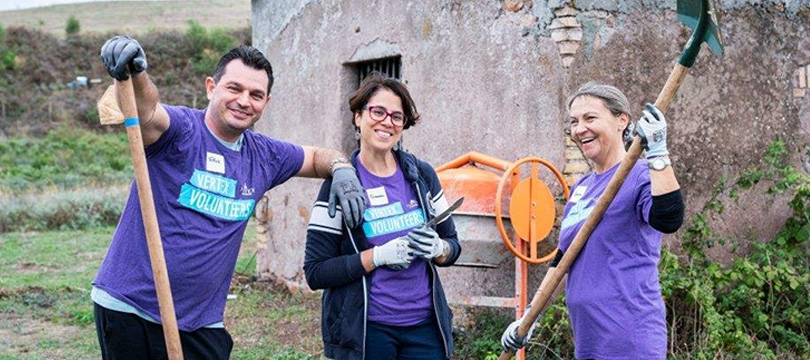 When we look back on 2022 — we are incredibly thankful.
The Vertex Foundation continues to contribute to our communities around the world and work with nonprofit partners having monumental impact. Whether it is providing meals and lodging to families of sick children to supporting innovative approaches to STEM education — the Foundation seeks to better lives.
"One of the best parts of this job is always knowing the personal impact on people you'll never meet and that's something I'm very proud of," said Katharine Jensen, Head of Corporate Responsibility and Executive Director of the Vertex Foundation.
In 2022, the Foundation contributed $8.4 million in charitable giving. 
More on our partnerships
Ronald McDonald House Charities
With more than 380 programs around the world — from Australia to Portugal, Ireland, and beyond, Ronald McDonald House Charities aims to help the families of sick children — financially, physically and emotionally.
"We're providing more than 4,300 overnight stays plus meals to families across nine countries whose children are in the hospital and need that wrap-around support. Ronald McDonald House chapters' partnership has just been fantastic — a great collaboration and alignment of values and culture," said Katharine.
In 2022, the Foundation provided an additional grant to Ronald McDonald House Charities to support up to 10 Ukrainian families across Europe helping them with housing, meals, clothing and educational needs.
Feeding San Diego
Over on the west coast of the United States, building upon the mission to support healthy families — the Foundation partners with Feeding San Diego. The organization battles a startling statistic — more than 330,000 people in San Diego are food insecure of which 120,000 are children. Food insecurity can have devastating impacts on a child's future, including an inability to reach their full physical and cognitive potential. The Foundation is pleased to continue supporting Feeding San Diego's School Pantry program while expanding its partnership to include support for the Mobile Pantry Program.  In 2023, the School Pantry Program is expected to expand to 45 sites to provide more than 1.7 million meals through the program while the Mobile Pantry Program will provide 2 million meals to families living in food deserts.
City Year
Leading the way to tomorrow and supporting the next generation of innovators, the Foundation collaborates with innovation-focused organizations that support that vision. City Year — a partner since 2019, has that shared goal — and in 2022 received a grant for programs in the U.S. and U.K. Understanding systematic inequities, City Year has a multi-prong approach that is designed to support students and schools, develop civic leaders, and spread key insights.
Data presented by City Year shows that schools that partner with the organization for more than five years experience greater improvements in graduation rates. And, schools that partner with City Year have lower rates of chronic absenteeism than comparison schools.
That's fantastic.
Hands-on volunteering — Global Day of Service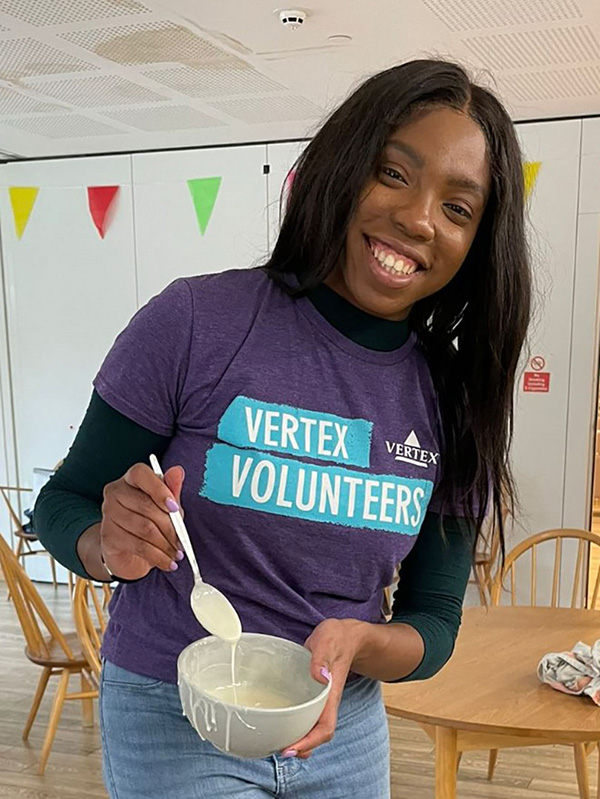 To see what kind of a difference we can and are making, Vertexians are also engaging directly in their communities.
Our 14th annual Global Day of Service was bigger and better than ever – with 57% of employees globally participating. Britt Davis, HR leader for our San Diego research site, packed meals for those in need.
"Wondering where your next meal will come from should never be a concern for anyone, but for far too many people, this is a reality," said Britt. "It was a joy to partner with Feeding San Diego to help end hunger through food rescue. I was incredibly proud to serve alongside my team, who packed over 500 nutritious meals for those in need."
Overall, nearly 2,200 Vertex volunteers, from 26 offices in 20 countries, spent a combined total of 6,330 volunteer hours getting out in their communities. International Patient Engagement Associate Sholake Olowu volunteered with Ronald McDonald House at Evelina London Children's Hospital.
"It feels good to volunteer knowing that we are supporting a charity providing immediate impact for families. It was really great to see how everything came together, as I helped to coordinate the volunteer opportunities for IHQ with Nicole Elliott, International Patient Engagement Specialist. It was fun to get my hands a little bit messy with the IHQ baking crew to help to put a smile on a family's face."
Matching Gift
The Vertex Foundation's matching gift program provides a one-for-one match for Vertex employee donations to qualified nonprofit organizations. Vertex employees and their passion for giving never ceases to amaze us. In 2022, Matching Gift giving was up by more than 15%, and the number of participating employees increased by 31% with nearly 2,000 nonprofit organizations supported globally.
Future focused
As we head into 2023, more than ever, we are energized — ready to make an even bigger impact, while continuing to evaluate our approach.
"When the Foundation began, we set geographic parameters to have our grants focused on communities where Vertex is located — so that's where we have people and where we have offices. As we grow, the Foundation will consider the needs that we can truly address," said Katharine.
---
For more on the Vertex Foundation, visit https://www.vertexfoundation.org/.
For more on the Vertex Foundation's impact outside of North America, check out this post from Ana Carolina Santos, one of the Vertex Foundation's board members.