Sickle cell disease (SCD) and transfusion-dependent beta thalassemia (TDT) are genetic blood disorders affecting millions of people worldwide. And while the physical and medical implications of living with SCD and TDT have been documented, few studies have assessed the broader disease impacts, such as work productivity, academic success and financial concerns. These quality-of-life disruptions can go unnoticed — but for those living with SCD and TDT, managing their disease can mean a lifetime of challenges extending well beyond their physical disease symptoms. At Vertex Pharmaceuticals, our Health Economics and Outcomes Research (HEOR) team set out to better understand the profound, yet often overlooked, challenges facing these patient communities. 
In HEOR we refer to patients' personal, familial and societal impacts as "humanistic burden." You can read firsthand accounts of the lived experiences of people with SCD and TDT here. As part of our research, we gathered qualitative and quantitative data to shed light on the long shadow cast by the daily burden of managing these diseases. The results of these studies are striking. Despite receiving currently available treatments, people with SCD and TDT continue to experience substantial and sustained humanistic burden that can drastically impact their quality of life, careers, education and financial stability. 
Education interrupted
Managing a chronic illness like SCD or TDT can interfere with a person's academic progress, presenting unique challenges at various stages. Children and adolescents living with SCD may need to take frequent absences from school due to pain crises, infections and hospitalizations. Those with TDT may need frequent absences to receive blood transfusions and can struggle to concentrate in class due to frequent fatigue. These roadblocks can lead to falling behind in coursework and difficulty keeping up with their peers, which can ultimately affect educational attainment. These communities face additional hurdles when pursuing higher education. The unpredictable nature of SCD and TDT can make it challenging to meet attendance requirements and sustain consistent academic performance. As a result, pursuing a degree may take longer or even be impossible, impacting career prospects and financial stability. 
Career struggles and missed opportunities
For those living with SCD and TDT, establishing and maintaining a successful career can be a constant battle. Frequent medical appointments, hospital visits and unpredictable health crises can lead to an inability to consistently work, the need for extended medical leave, and a reduction in the hours worked — and for some, the inability to maintain employment or work at all. These impacts can limit employment options and create substantial obstacles for professional growth. As a result, career aspirations may be thwarted, and financial stability becomes a major concern.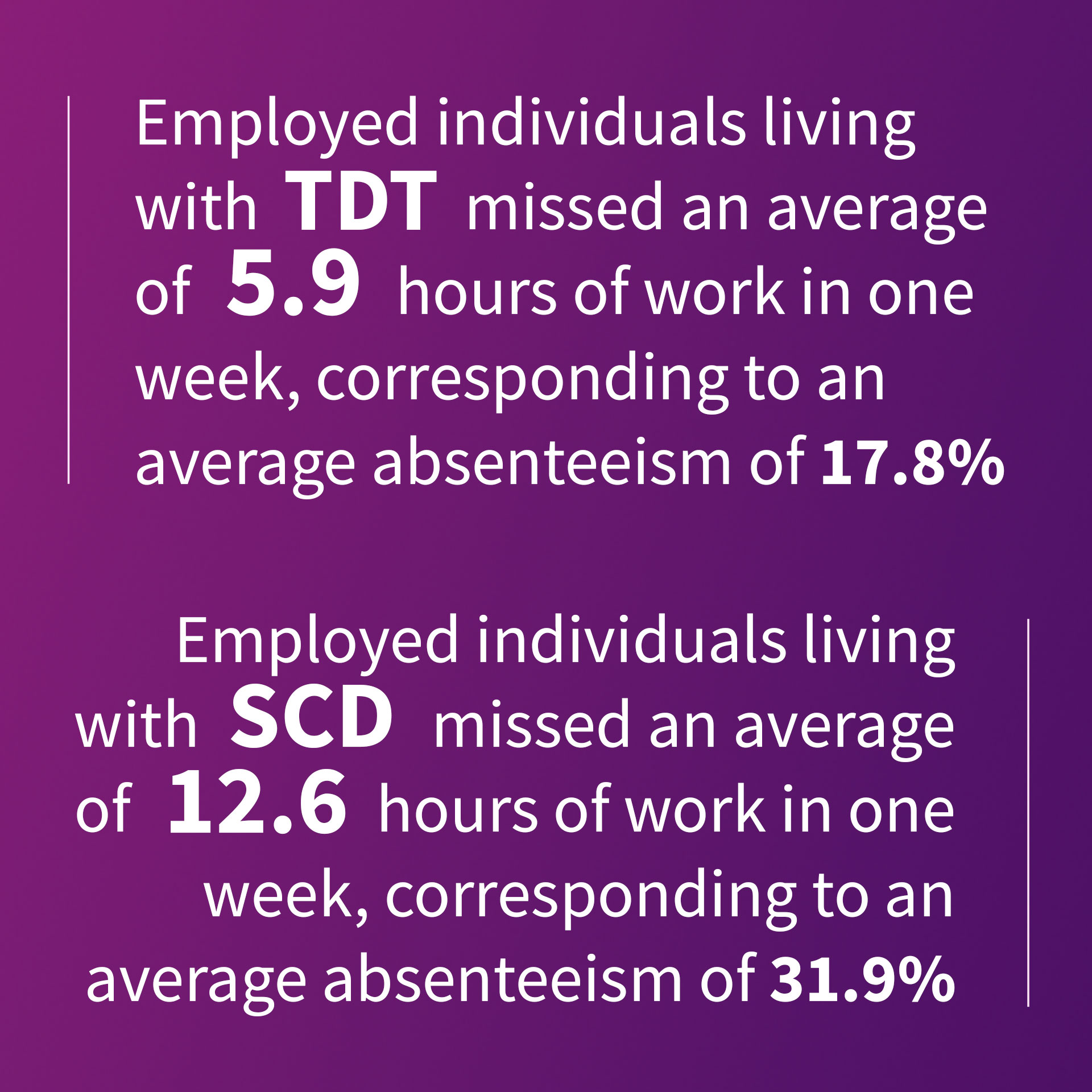 These data were collected as part of a six-month longitudinal survey of 121 participants living with TDT and 118 people living with SCD located in the United States and Europe.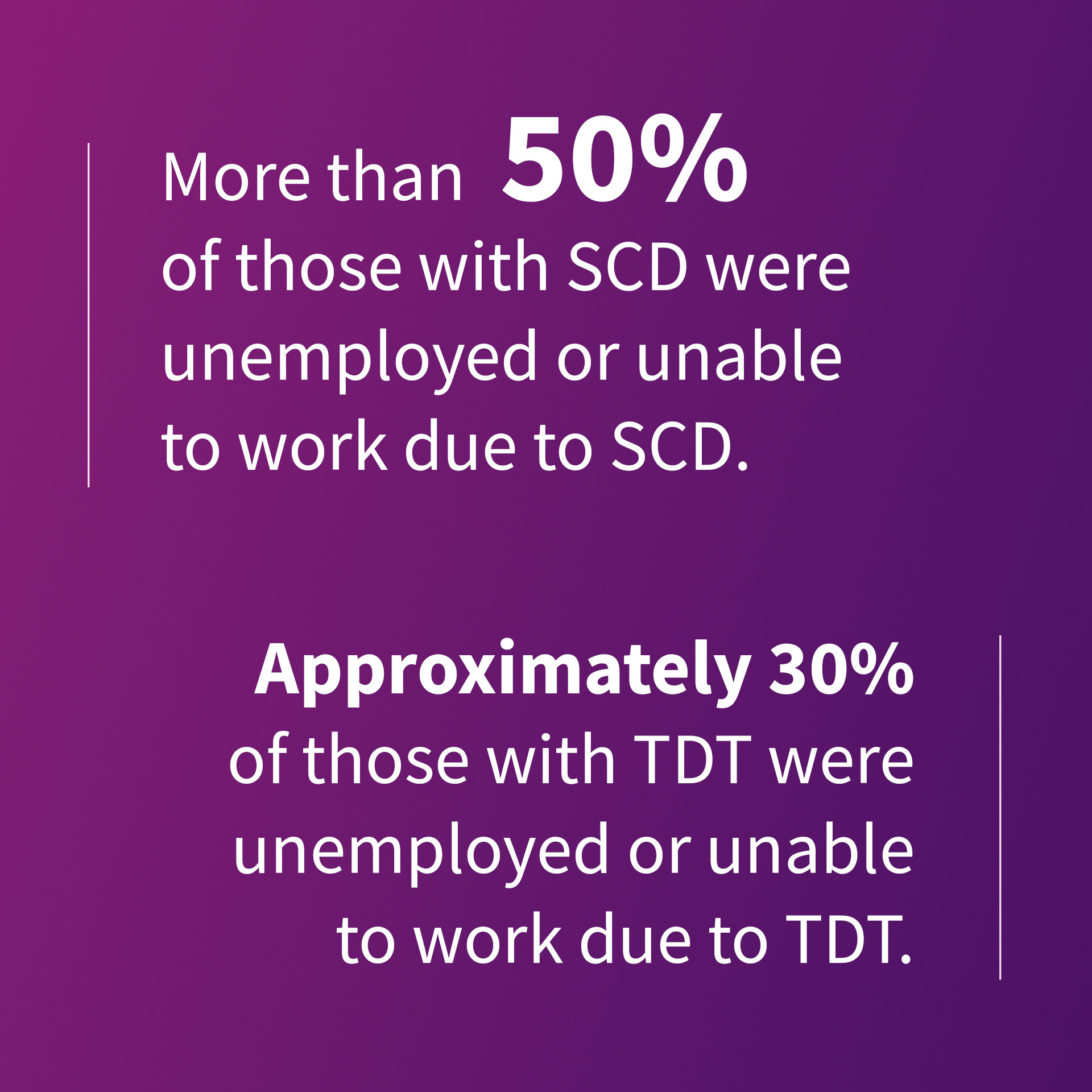 These data were collected as part of a six-month longitudinal survey of 142 adults living with SCD and 155 adults living with TDT in the United States and Europe.
 
Hidden battles, heavy costs
It is clear that the humanistic burden of living with SCD and TDT can result in significant financial burden on individuals and their families. The cost of ongoing medical care, including hospital visits, medications and specialized treatments, adds up quickly. Furthermore, people with SCD and TDT may require emergency hospitalizations, leading to unforeseen medical expenses and a potential loss of income. The financial burden on people and families can be devastating. Many participants in our study reported financial concerns and financial distress, including: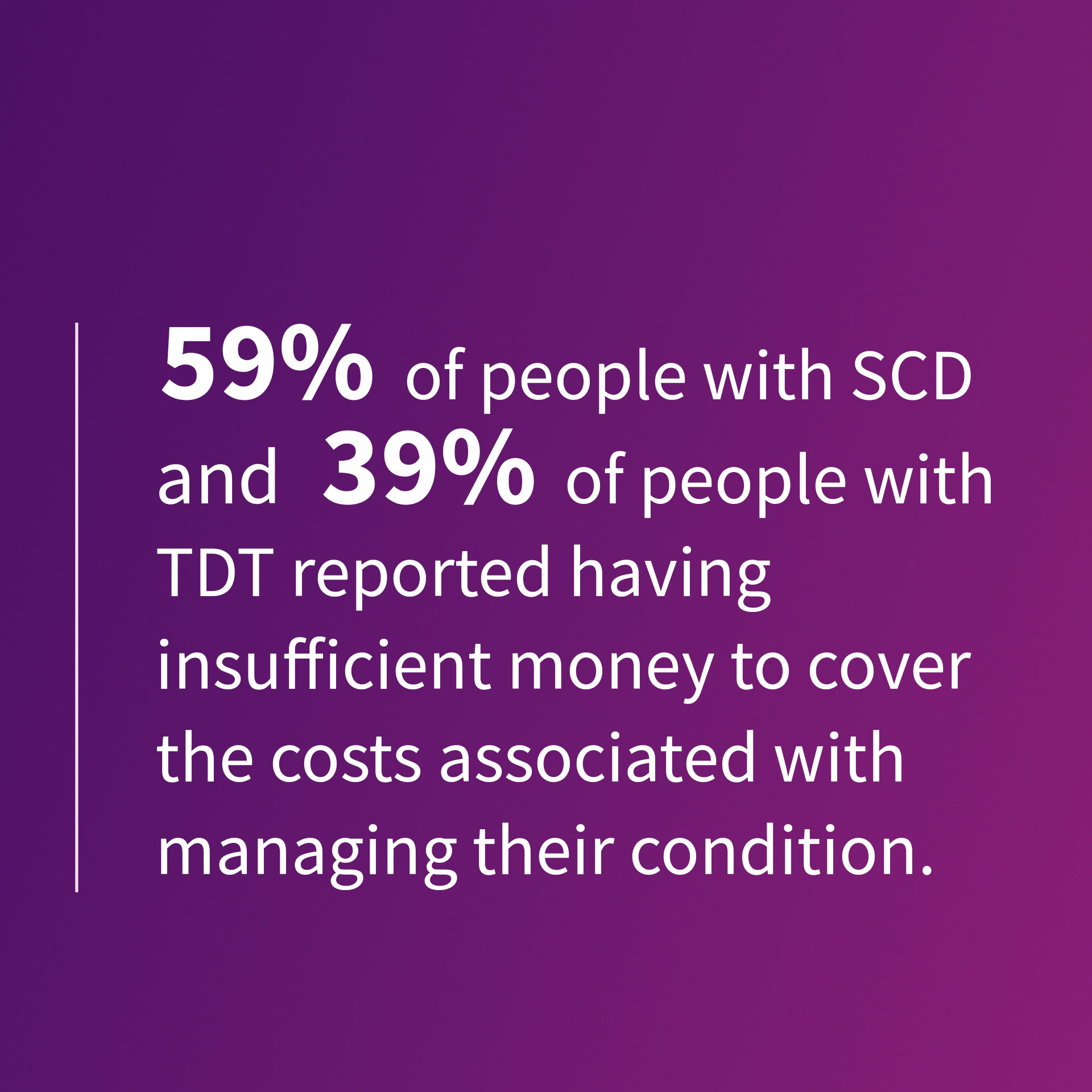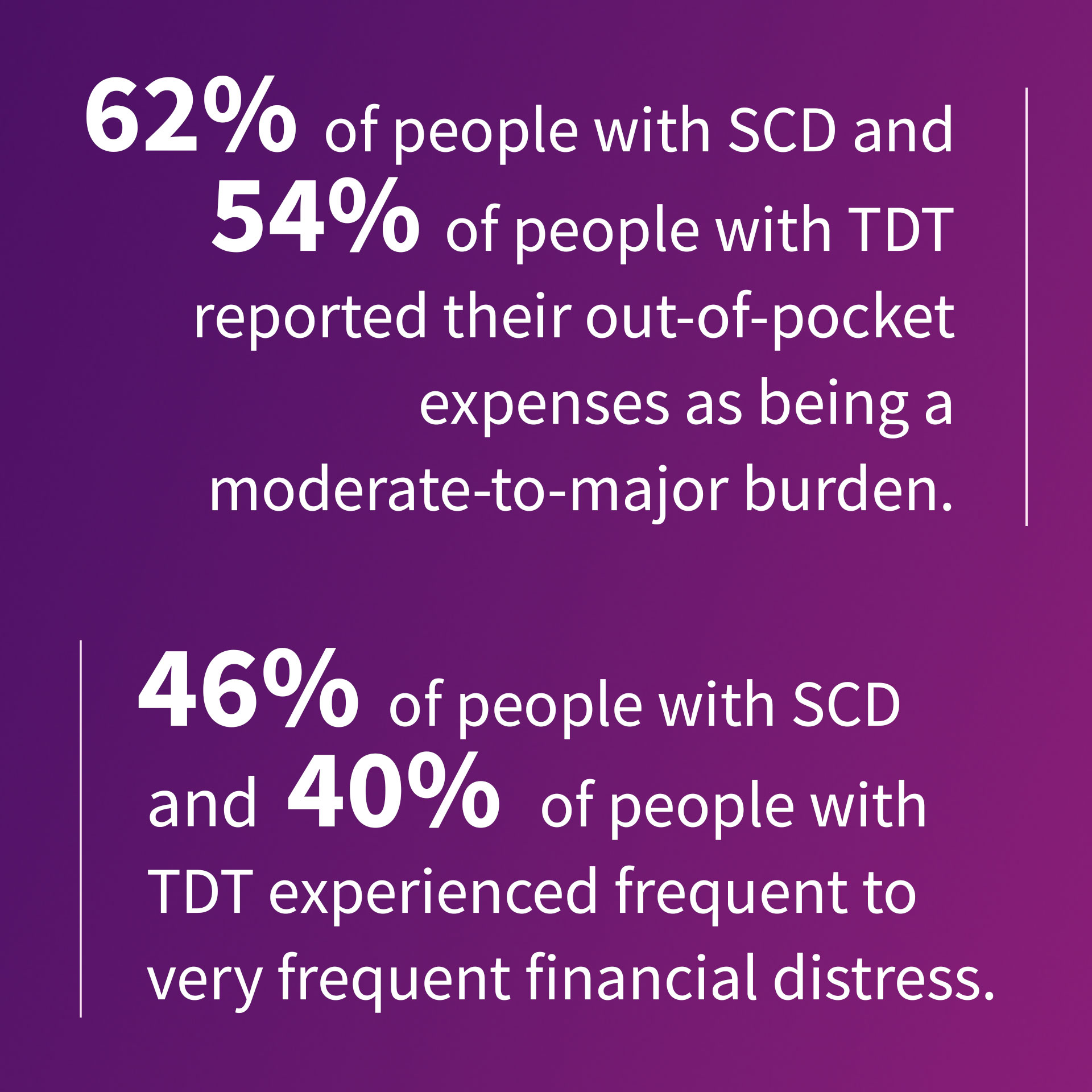 These data were collected as part of a six-month longitudinal survey of 121 participants living with TDT and 118 people living with SCD located in the United States and Europe.
 
What's next?
The impact of SCD and TDT extends well beyond physical health. Our findings show employed participants miss a substantial number of hours of work each week and experience reduced productivity due to their illnesses. Most participants report insufficient money to cover the cost of managing their disease and that their out-of-pocket expenses were a moderate to major burden. Together our findings also demonstrate these negative impacts affect family life, social well-being and emotional well-being. 
All the while, individuals with SCD and TDT are managing the daily symptoms and impacts of their disease directly, which includes navigating obstacles they report facing when seeking care. Both communities have reported these obstacles in relation to a lack of understanding of their conditions by health care providers. Alarmingly, the SCD community also struggles to receive adequate and equitable access to health care due to the color of their skin and stigma of their disease. In data presented by our team at the 2022 American Society of Hematology, 67% of 142 survey study participants in the United States and Europe reported feeling unfairly treated while seeking care due to their race, and 65% of participants reported feeling unfairly treated when requesting more pain medicine. 
Altogether, these results demonstrate the substantial humanistic burden and significant unmet need among those living with SCD and TDT. Our teams are continuing to finalize additional study analyses on the impact of health equity concerns in these communities. We look forward to sharing more later this year as we hope to paint a fuller picture of the impacts of these serious genetic diseases and the clear need for options that could potentially transform the lives of patients. 
If you enjoyed reading this deep dive into the HEOR team's findings, check out the following links for more about this important work: 
Embedding the patient perspective: Using research to understand patient experiences  
Behind the curtain, a look into the lives of people with serious diseases